Trans-Continental Mambo writes on 2014-04-01:
We are writing again from Quito, Ecuador. Only having been here for a couple of days, we have already had quite an eventful time in the city.
The area we are staying in is called Mariscal, or affectionately "The Zoo" by one of the more elder guests at our hostel.   The name comes with no surprise having spent a bit of time here.  It's an area frequented by "the young people" and is abound with trendy nightclubs, cafes, restaurants, and shops.  That said, in the morning when we wandered around in search of a cheap economical breakfast to suit our budget we found very little, and The Zoo was a bleak dead zone compared to the previous afternoon and evening, with the streets littered with empty booze bottles and graffiti-ed metal roll-up shop fronts.
We spent our first full day in Quito (Saturday) running errands, travelling across the sizable city in search of motorcycle shops, outdoors stores (of which there are a few), as well as computer stores that may be able to repair our Chromebook.
We finally replaced Jenn's Big Agnes sleeping pad (for camping) which started to fail back in Guatemala.  While Big Agnes gave it an earnest shot in sending us a replacement, due to no fault of their own it was returned to sender, at which point it was held up in US customs for what seemed to be an eternity.  Perhaps a political penalty for all things Colombian?  If you haven't been to Colombia, it is not all about cocaine and narco-trafficking but this stereotype seems like a hard to break for North Americans.  As a common statement about tourism in Colombia goes:  "The only risk is wanting to stay the bloody awful drivers".  Anyway, we digress and should now be talking about Ecuador
Support from Big Agnes fizzled out for a while, and while someone finally suggested sending a second sleeping pad instead of waiting for US customs, it was sort of too little, too late, but we were able close the deal by purchasing a comparable sleeping pad at the local Tattoo outdoor for what we would call a reasonable price, which seems to be a little contradictory due to the high import taxes here.
Rather surprisingly, we ended up spending a number of hours at Tatoo, which is a South American chain similar to MEC in Canada and REI in the US.  This was not so much due to a shopping extravaganza (one item) but because of a torrential rain storm outside, and then we met a nice couple from Liechtenstein travelling on bicycles since Guatemala, so we sat around, drank free espresso, and exchanged travel stories.  Strange but true.
After our stint at Tattoo, we returned to our hostel and headed out to The Zoo to find some grub.  We ended up at a tasty little shawarma place (apparently a Quito fave), had our dinner, bid farewell to the staff with a "see you tomorrow!!!" only to find out that they are closed on Sundays (booo!).  In search of dessert, which we did not end up having, we heard some ruckus nearby, saw increased police presence and realized that we were standing at the corner of where a political protest was about to pass by.
Have no fear, it is somewhat difficult to depict the surroundings, but the area is actually fairly swanky and you would not realize that you weren't in a club district back home.  The general character of the people involved was familiar, at least to Adam, having been witness to many political protest and various demonstrations during his days.

It turns out that in we stumbled across the La Marcha de las Putas, or as we know it, the Slut Walk (which apparently started in our home city of Toronto three years ago) has been making an appearance in various cities on the international scene.  From what we could tell from the Spanish language signs and placards, the demonstration also included messages speaking out against violence against woman, the right to reproductive choice, gay rights, and gender equality.  Having not brought our cameras (Did we say this publicly? Poor excuse, but we were only going to eat, and with so many warnings signs in the hostal about petty theft in the area, it had as a little paranoid) we bee-lined back to the hostel to grab our cameras once the parade stopped at the bandstand.  We ended up spending a good amount of time amongst the crowds taking photos and listening to various musical acts.
It was a bit of an interesting scene.  Surely many of our readers have some preconception of what they might think Latin American culture might be like.  You might be surprised to hear that this event hosted a (death/black) metal band, a sort of folksy acoustic singer, and some hip-hop artist. There were all sorts of people in the crowd including obviously local indigenous people, hippy-types, those wearing Motörhead t-shirts amongst various other bands, a couple with very obvious skinhead and chelsea haircuts, a couple of somewhat burley biker guys (Inti MC Club?) who seemed to be indigenous bikers, and many more.  It was really not dissimilar to a crowd me might see back home, including stilt walkers, various people in drag, costumes, are lack of clothes, and on and on.
To have been here at that exact moment was something in itself.  It was very moving, and brought Jenn to tears to have been a part of the event.  Travelling through Latin America, we have witnessed and been subjected to the machismo that still reigns popular amongst many.  It made Jenn feel proud to see people standing up for what they believe in, and fighting for change in a developing country.  Although the parade was much smaller in scale than protests we would see in Toronto, it warmed our hearts to see people not afraid to be who they are, and put a voice to a change that needs to come.
As the night went on, we noticed three guys with motorcycle helmets and obvious signs of riding big motorcycles such as Klim gear, KTM logos, etc. and we sparked up a conversation.  Our focus ended up switching away from what was now a small concert, to going to look at bikes, including a smashing pumpkin orange KTM 990 Adventure, a Ducati 1200cc Multistrada, and Kawasaki Versys.   We soon found ourselves wandering away from the concert with Dennis, Alex, and Mario, in search of beer in the bustling district.
We ended up at Finn McCool's, an Irish pub, serving cans of Guiness for USD$14 (and you thought Toronto was expensive for beer!!).  Our hosts ordered up a 'giraffe' which is a three foot tall cylinder full of beer of choice with a tap at the bottom in order to serve bar-style.  We aren't sure which local swill brew we were drinking that night, but drank two of the giraffes, in addition to a plate of fries smothered in what appeared to be spaghetti sauce and cheese.  It wasn't apparent if this was an Irish dish or an Ecuardorian take on something, or perhaps a mixture of both, but it was somewhat of a confusing dish.
Dennis, whose knowledge and appreciation of 80s music was just as extensive as Jenn's, spoke excellent English, and entertained us with his singing and dancing.  Jenn voiced that she may have finally met her match as a walking jukebox.  Anyway, it was a great night and the guys had lots of pointers of where to go and what to see in Ecuador, as well as the inside scoop on a motorcycle convention in Cuenca (about six hours south of here) this coming weekend that we are keen to check out.
On Sunday we decided to check out Volcan Pichincha.  Adam had been planning a return visit to the summit ever since he visited it in 2010, so we heeded the warnings that the road might muddy since the area had received a copious amount of rain recently, and headed out to check out the conditions ourselves.  The day did not start off very well, as we hit rain not two blocks after leaving the hostel.  No fear, we had rain gear and pulled over to put it on.  The ride out to Lloa, the town at the base of the volcano, was quite far through dipping, winding, and busy city streets.  After an hour or so we found the gateway that marked the entrance to the volcano road.
We were pleasantly surprised to find a road that was hard-packed dirt and not very wet at all.  It seems the rain didn't make it to this side of the volcano.  There were a number of ruts that made Jenn feel nervous, but didn't present much of a challenge.  There were, however, a whole lot of steep elbow curves that did present a problem for Jenn, and Adam found himself riding both bikes over these obstacles and Jen exercising her hiking skills.  It was soon apparent that walking up the steep roads wearing 30 pounds of riding gear and at altitude (3500-4000 meters), would be a little more difficult than previous hiking incidents.  Jenn was easily winded and tired very easily, having to stop after only a few steps uphill.
As we continued along the road at our slow pace, the mud and difficulty increased.  On Jenn's part it seemed as though she was now doing more walking than riding, which is both embarrassing (The Walk of Shame), and tiring. Really tiring at this altitude.  Many times we would send Adam off as a scout to check out the road ahead, then come back to report on the condition, and where it would be ideal for Jenn to stop in order for Adam to take over piloting her bike.  As the day started to wear on, and finally the summit came into view, dusk was quickly approaching.
What would take a car 4×4 two hours to drive, had taken us almost five hours.  Nearing the summit, we decided to ride two-up on one of the bikes in an effort to reach the climber's refuge at the car park which marked the pathway to the summit.  Against Jenn's better judgement, and at the mercy of Adam's will, we began the steep ascent.  Jenn's bike had other ideas, and part way up started sputtering for air and gave up its gusto.  Adam killed the engine and stopped the bike, however the loose surface gave way and we started sliding backwards.
Before we knew it, and despite Adam's valiant efforts to keep the bike upright, Jenn had fallen backwards, Adam landing on top of her, and the bike landing on top of him.  Luckily, a staff member (we think) from the refuge rushed down to help, and soon the two of them were gingerly lifting the bike up from on top of Jenn (it was a strange fall – somehow Adam managed to land on all fours so not to crush Jenn or be crushed by the bike).  Jenn's left leg was wedged underneath the bike with her foot underneath the skid plate.  Her right arm was in a great amount of pain and we were worried that it had been broken upon impact.
Fortunately we had invested in high quality Motoport gear which has a very strong reputation for being mighty protective in the event of a crash, and Jenn has had ample opportunity to test this claim out.  The gear has lived up to its reputation with every spill, and aside from lasting pain which was to become evident over the next few days, we suffered no broken bones.
As for reaching the summit of the volcano – it didn't manifest.  After the spill, the wind was taken out of our sails and we decided that since it was already 4:30pm, and daylight was waning, that it was time to begin our descent.  The volcano had kicked our asses, despite a valiant effort.  The bikes were not equipped with proper (knobby) tires, and we would have been better off using premium gas, and so forth.   So, with the cross mounted on the summit in sight, we turned our backs and began what would a very difficult descent.  It had taken us five hours to reach the point where we turned back.  Adam estimated that it would take no more than an hour to get back down.  Boy, were we wrong.
Shortly into our descent it became painfully apparent that the tires on the bikes were performing much worse on the descent than they had on the ascent.  The road had also seem to become wetter (from either rain or mist) and Jenn's treads were soon packed full of mud, making them as effective as an inner tube on the slick surface.  We slipped and slid our way down slopes, and back around the pesky elbow curves.  During the process, the bikes had been dropped perhaps four or fives times.  For descents greater than mild, particularly elbow curves, Adam was riding one bike down, and walking back up to get the other bike.  This was a slow, drawn out process, and very, very tiring.  We should suspect that even those much fitter than us would be taking their time climbing these ascents due to thin air.
We had never been so happy to find loose gravel on the road, as it provided as least some grip for our tires.  We managed to lug, pull, push, and paddle our way through the tricky parts, with more hiking involved, and much more frustration.  It soon became evident that we would not be getting off the volcano before dark.  We had left our camping gear behind at the hostel in an effort to lighten the bikes for the dirt road, so we had no other choice but to keep going.
Reaching the 'Y' in the road which signified more a more level road, and breathed a sigh of relief.  We have outfitted our bikes with decent LED lights which provide pretty decent illumination and let's just say that we were glad that we did.  Our LEDs and high beams lit up the road reasonably well and it didn't prove to be such a bad ride once we were on flat ground again.  We only came across a few cows wandering on the road, and while there was a little less visibility concerning the road surface (i.e. ruts and rocks weren't as evident), the final ride out was a breeze compared to earlier.  We reached the town, and set off through the darkness, and patches of fog back to Quito.
What had intended to be a few hours adventurous ride up a volcano, ended up taking us eight hours in total.  Exhausted, we skipped the shower and set out for food (we hadn't eaten since breakfast), devoured what we found, then headed back to the hostel for a well-deserved beer.  Our new friend, Dennis, showed up around 9:30pm to see if we wanted to go out, to which we politely declined, and retired to bed soon afterwards.
Needless to say, Monday was spent doing, well, not much of anything.  We were both very sore, and very tired, and spent a good portion of the day in bed, sleeping and resting.  It wouldn't be out of line to say that it felt like we were recovering from a marathon.  We did a little laundry, and Jenn treated herself to a haircut.  We did, however, manage to cash in our raincheck with Dennis and went out for dinner and a beer with him.  Today (Tuesday) found us doing much of the same – sleeping in, napping, and doing not much of anything.  A little bike maintenance.  A little ice cream.  Tomorrow we head out to Baños.  We woke up today with the intention of heading off, but…well…we went back to bed.
AT's Corner:  As an aside, several weeks ago, we ran into a fellow traveler who has been on the road for several years and only using other peoples' used tires, and to the point that they were beyond bald and with the casing exposed.  We ran into this fellow while we were having a look around to see what tires were available.  Eventually we are going to need some new tires, and are probably going to get something more aggressive since we are going to be hitting more dirt roads (nothing like the volcanoes, though!).  That said, this fellow basically made fun of us with such questions as "What? Are you riding the Dakar Rally?  Just get used tires! Look what I use.  You can just use what other people throw away.  Don't waste your money!".
I felt pretty annoyed by this guy on the volcano.  I don't think he really influenced us one way or another – we didn't want to buy new tires too early, and want to get the best price we can within reason.  That said, I was admittedly bugged by this guys determination in trying to convince us that was right for him, is right for us, even though I had mentioned that we would be doing some off-road riding such as riding volcanoes.  Note to self:  stick to your guns and don't listen to blowhards.
Adam's brief history with Volcan Guagua Pichincha.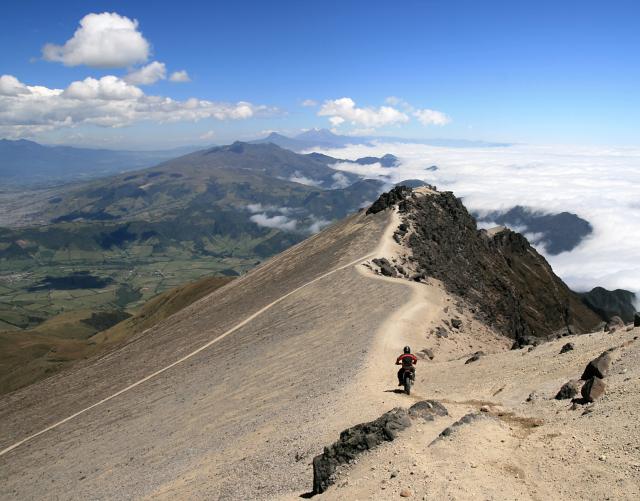 My friend Tyson Brust wins the best photo for 2009 Horizons Unlimited calendar.